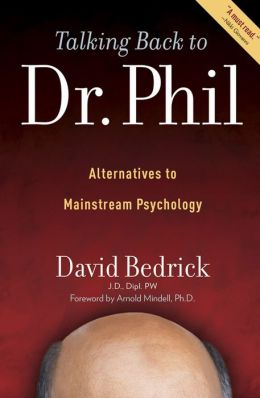 The familiar bald pate peeks out from the bottom of the cover, inviting the reader to enter two minds simultaneously; that of the iconic tv talk psychologist, Dr. Phil McGraw and author David Bedrick who is the practitioner of a therapeutic modality called Process Work. Bedrick's book:  Talking Back to Dr. Phil: Alternatives To Mainstream Psychology, fascinated me for several reasons. The first is that it challenges the typical, albeit well meaning methodology that is often offered in the psychological community in which I have been a therapist for 30 years. The second is that he incorporates many interventions that I use with my clients. The third is that I too, talk back to the esteemed doctor when on the elliptical at the gym, as did Bedrick which sparked him to write this useful guide.
We had a conversation last Thursday night May 16th at 8pm est on It's All About Relationships on Vivid Life Radio and the first thing I clarified was my sense that this book is not about dissing Dr. Phil, but rather an attempt to offer another lens through which to view the issues that are raised on the show. I pointed out that it can be  incredibly challenging to resolve the therapeutic and glorify the sometimes sensationalistic on the same stage in less than an hour, counting commercial breaks. There is no quick and easy answer to the baggage that the guests bring with them that encompass relationships, abuse, addiction, infidelity, depression, suicidality, financial hardship, caregiver issues and the like.  In each chapter, Bedrick raises a topic, and then explains the ways in which it was addressed on air and then shares his own insights.
In this animated interview, Bedrick spoke of his 'love based psychology' as a helpful interventive tool and said that "something wants to emerge in us," when we manifest disturbance and in that "there is some seed and the problem could look like a gift."
Listen in to the first half of  our conversation in its archived form. www.vividlife.me   The second half will air September 5th.
David is also a Vivid Life Blogger  https://vividlife.me/ultimate/31734/shame-the-master-emotion/